FARFEST 2001
BOWIE, MD
click on any photo to
ENLARGE


September 30, 2001. The Foundation for Amateur Radio (FAR) held its annual hamfest in Bowie, Maryland.

Thanks to Frank KB3AHE for putting up the Special Events Station making the fester a huge success for AM'ers. His homebrew transmitter was a 4-1000A screen modulated AM transmitter. Frank received moral support from his wife Carol (now KB3OMT).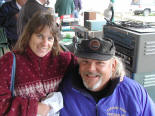 A small sampling of the vintage goodies at the fest.