TIMONIUM HAMFEST 2003
TIMONIUM, MD.
click on any photo to ENLARGE
March 29, 2003. The greater Baltimore Hamboree and Computerfest better known as the Timonium Hamfest was held at the Maryland State Fairgrounds. The weather was a mix of several hours of rain followed by several hours of sun and back to rain again. The prediction of heavy rain took its toll on the number of outside vendors, which were much fewer than last year. Fortunately the Maryland State Fairgrounds had several very large buildings to allow festing during the rainy periods.
1. One of the sellers had a great stash of transmitting tubes of which this is but one small box. 2. A homebrew operational spark transmitter by one of the antique wireless guys.

3: Noon at the Exibition Hall where all the AM'ers got their mug shot taken.
Standing L-R: Rich KB2AM,Fran W3SCC,??,Joe W3GMS,Joe N3IBX,Dave K3ZRF,Phil K2PG,Greg N1EXI,??,Ken W2DTC,Chuck K3XU
Squatting: Steve WB3HUZ,??,Pete WA2CWA,Paul WA3VJB,??,??,Gary AA3WH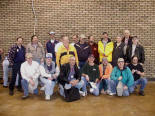 Greg N1EXI and Dave K3ZRF enjoying the meeting of all the AM'ers.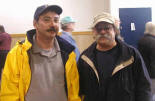 Paul WA3VJB and Gary AA3WH also enjoying the activities at the fest.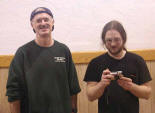 POST TIMONIUM PARTY FOR AM'ers
The best part of the whole day was meeting other AM'ers and attending the Post Timonium party hosted by Frank KB3AHE and his wife Carol (now KB3OMT). The party had lots of good food and drink and of course some legendary stories about AM that never will hit the airwaves. In short the Frank and Carol party was fabulous !
Rich KB2AM is looking over his newly acquired, WORKING 6 meter transciever. Whoever built Rich's rig paid attention to detail and good construction practices.
A most beautiful trophy awarded to KB3AHE from Rich KB2AM.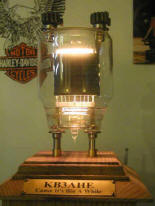 Frank KB3AHE showing off the newly configured shack.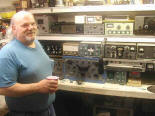 Paul WA3VJB taking photos with a real FILM camera.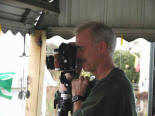 Frank KB3AHE announcing on the air, that he just placed a bulletin on the AM WINDOW about that NO SHOW, unreliable N3WWL who attended the fester but not the Post Timonium Party. All the guys were calling Jay: N3WUS but alas the call is owned by a female in Pennsylvania. Fortunately, Jay has a good sense of humor and took it in stride.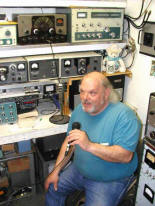 Paul WA3VJB and Frank KB3CYX enjoying the good food, drink and conversation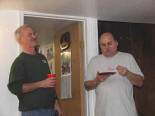 Joe W3GMS and Martha (now N3QBE) enjoying the party at Frank and Carol's and testing their new mini-disk recorder.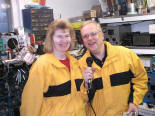 Scott KA3CBC discusses a program on Steve WB3HUZ's laptop computer.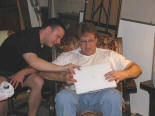 The gang enjoying the comfort of Frank and Carol's refurbished basement.
Another excellent radio event.