POST TIMONIUM PARTY FOR AM'ers 2007
HOSTED BY KB3AHE and KB3OMT
click on any photo to ENLARGE
March 31, 2007. Another splendid event for the AM gang in Nottingham, MD, near Baltimore. Frank , KB3AHE and his wife Carol, KB3OMT were great hosts and provided everyone with lots of food, drink and friendship.
1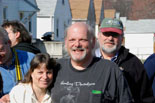 2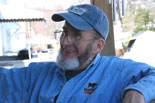 3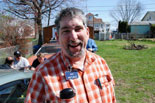 4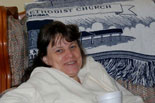 5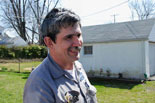 1: Our gracious hosts: Carol KB3OMT and Frank KB3AHE.
2: Wayne WA1SSJ.
3. Bill W1AC having a great time at the party.
4: Carol KB3OMT, smiling, but still fighting a bad cold.
5: Tom KB3OPR.
6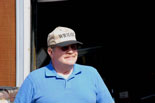 7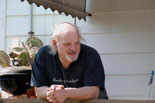 8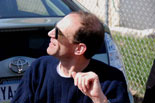 9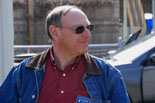 10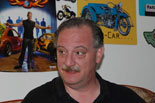 6: Chuck WB3LGG.
7: Frank KB3AHE making sure all his guests have enough beverages and food.
8: Bruce W2XR.
9: Dave K2DK.
10: Joe N3IBX "Vortex Joe"
11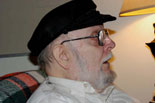 12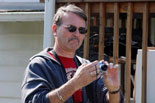 13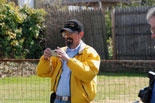 14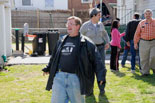 15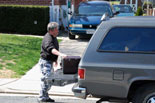 11: Ralph W3GL.
12: Paul K2ORC wrestling with those multiple digital camera menus.
13: Bill KA8WTK.
14: Brent W1IA making his grand entrance to the party.
15: Frank KA2TRU, taking a deep breath after lugging a Valiant from KB3AHE's basement.
16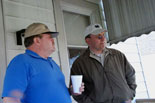 17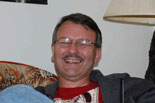 18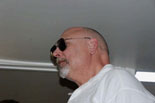 19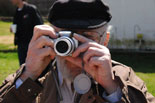 20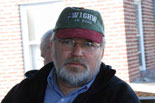 16: Chuck WB3LGG and Karl KD3CN.
17: Paul K2ORC enjoying one of Vortex Joe's funny stories.
18: Joe N2YR.
19: Ralph W3GL in a camera to camera duel.
20: Gary W1GHW in a rare moment of solemn reflection.
21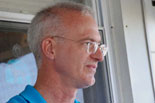 22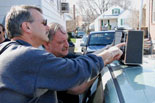 23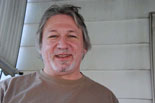 24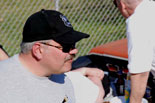 25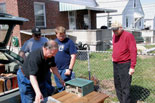 21: Paul WA3VJB.
22: Paul K2ORC and Joe N3IBX tune in WWV on a Grundig.
23: Karl KB3JKG.
24: Mike W3SLK.
25: Joe N3IBX, Mike W3SLK, Rick W3RSW and Norm WB2SYQ. Yep more stuff for the Vortex Joe Museum.
26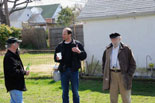 27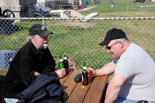 28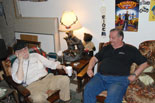 29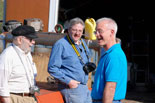 30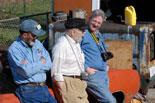 26: Bert WA3JYU, Bruce W2XR and Ralph W3GL.
27: Bert WA3JYU and Mike W3SLK.
28: Ralph W3GL and Joe N3IBX.
29: Ralph W3GL, Bert WB2SYQ and Paul WA3VJB.
30: Wayne WA1SSJ, Ralph W3GL and WB2SYQ.
31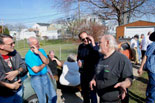 32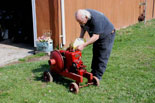 33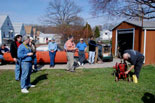 34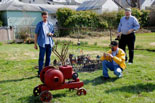 35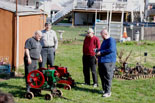 31: Paul K2ORC, Paul WA3VJB, Bruce W2XR and Frank KB3AHE.
32-35: Frank KB3AHE demonstrates his THROTTLE-GOVERNOR engines to the delight of the crowd.
36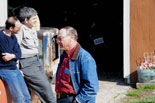 37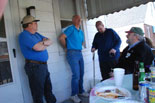 38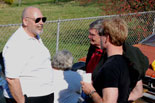 39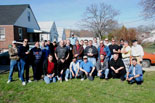 40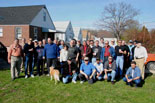 36: Bruce W2XR, Tom KB3OPR and Dave K2DK.
37: Chuck WB3LGG, Paul WA3VJB, son of N2YR and Gary W1GHW.
38: Joe N2YR, Rick W3RSW and Steve WB3HUZ.

Thanks to Steve WB3HUZ for placing the name and call with the face:
39:Kneeling (L to R): Randy-N3LRX, Bert-WA3JYU, Bill-KA8WTK, Chuck-WB3LGG, Paul-K2ORC, son of N2YR, Bill-AB3AL
Standing (L to R): Karl-KD3CN, Bruce-W2XR, Phil-K2PG, Norm-WB2SYQ, Joe-N3IBX, Frank-KB3CYX, Frank-KB3AHE, John-W3JN, Gary-W1GHW, Rick-W3RSW, son of W3SLK, Mike-W3SLK, Brent-W1IA, Tom-KB3??, Dave-K2DK, Joe-N2YR, Steve-WB3HUZ, son of WB3LGG, Frank-KA2TRU, Ralph-W3GL
And way in the back, all by himself, Wayne-WA1SSJ

40: Kneeling (L to R): Bert-WA3JYU, Chuck-WB3LGG, Bill-KA8WTK, Paul-K2ORC, Bill-AB3AL
Standing (L to R): Bill-W1AC, Karl-KB3JKG, Bruce-W2XR, Karl-KD3CN, Phil-K2PG, John-W3JN, Tim-N3DRB, Joe-N3IBX,??(obscured), Norm-WB2SYQ, Carol-KB3OMT, Frank-KB3AHE, Randy-N3LRX (mostly obscured behind KB3AHE), Gary-W1GHW, Rick-W3RSW, son of W3SLK, Mike-W3SLK, Brent-W1IA, Tom-??, Dave-K2DK, Joe-N2YR, Steve-WB3HUZ, son of N2YR, Wayne-WA1SSJ, son of WB3LGG, Ralph-W3GL
41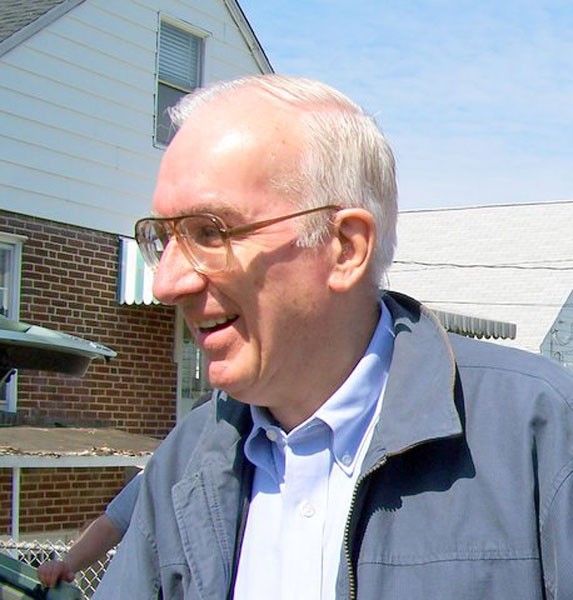 41: This photo of me was taken by my friend Ralph W3GL. Ralph emailed it to me on Sept 11, 2008 some 18 months after the party. (Ralph, this is 4 months longer than it took to build the Empire State Building, but that's OK Ralph, and thanks).