W2VJZ ESTATE AUCTION
LIBERTY CORNER, NJ
click on any photo to ENLARGE
May 5, 2007. The infamous W2VJZ became a silent key in December 2006 and many Radio Amateurs were wondering what would become of Irb's equipment and his property. Well, the equipment question was solved today as the New Jersey Auctions Corp sold Irb's equipment under the big tent.
After parking along Allen Road, I quickly met a couple of AM'ers inside Irb's house: (L to R) Rich KC2LAE and Bob KC2RDU. Then, outside, I met Pete WA2CWA.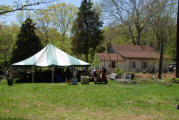 The event had all the makings of a hamfest with lots of boatanchors and some test equipment. (I was told that the HT-4B was sold, via a telephone bid, to a gentleman near Chicago, for around $800).
Then the main event of course was the auction. Admission was free and each buyer registered at a separate computer tent. It was well organized event and the New Jersey Auctions Corp also provided a written receipt of purchase. I purchased radio log books, some from Irb and some from his father. A local charity provided $1 beverages. (The Viking Ranger went for $200, the Hammurland SP-600 went for $180).
One of the first things I looked for was the tombstone and the outdoor speaker. While the Tombstone has Irb's name on it, he is not buried here. On the other side of the monument was the name of Irb's brother who I was told was buried here; however, Ashley WA1ICN, who was one of Irb's close friends told me that Irb's brother died in France and was buried at The Lorraine American Cemetery and Memorial in France. I also found that Irb had two outdoor speakers, one attached to the side of the house and another on a long pole above the house.
As a farmer, Irb had lots of equipment. Much of it appeared to need repair.
Lots of miscellaneous items including vehicles. The auction had a little bit of everything, including the kitchen sink.