BRENT W1IA - KEITH WA1HZK
ROAD TRIP
click on any photo to ENLARGE
May 26, 2007. Like Robin Hood and Little John, Brent and Keith traveled to three land to move some big iron up to New England. On the second day of the road trip they stopped at Vortex Joe's place in Washingtons Crossing, Pennsylvania and several of us joined them. Arriving a few minutes ahead of the pack, I took a few Vortex Joe photos.
The very rare "ART MODERNE" Atwater Kent Model 37 from 1927. It not only looked great but Joe plugged it in and it worked great too !
In a very short time the trailer pulled into the driveway, Keith driving, Brent the passenger and the pooch providing directions.
In addition to plate transformers and a broadcast transmitter was a 600+ pound modulation transformer. Someone is planning a serious AM transmitter.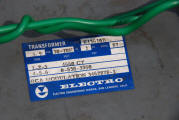 Shortly after their arrival, the whole group assembled. Left to right: Terry N3GTE, Keith WA1HZK, Joe N3IBX, Tom WA3KLR, Steve WA2DTW and Brent W1IA.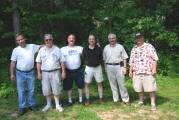 The first part of the tour was a quick look at the Vortex Joe staging area in the garage.
Then a view of a few pieces of living room radios. Yes just a few!
Next, the main museum in the basement.
Brent took the mike on the circa 1930 station and worked Guy W1FRM on 75 meter AM.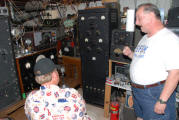 More museum. How does one explain this?
More mug shots.
A quick view of the backyard shed that is expanding into radio storage, then back to the trailer for the return trip home.
On the way home I suddenly got hungry so I stopped at the Triumph Brewery next to the New Hope and Ivyland RR in New Hope, PA. I always find New Hope interesting.