MIKE N4FS RADIO COLLECTOR
click on any photo to ENLARGE

June 25, 2007. During a 160 meter contact with WA3KLR, Tom mentioned that Mike N4FS was a radio collector and he lived south of me in New Jersey. Being interested, I checked this out and subsequently gave Mike a phone call. Mike invited me to his home in Howell, NJ and gave me the grand tour. Mike has an amazing collection of radio from the spark days to the present.
A small portion of Mike's collection on the main floor.
One of Mike's spark transmitters and a collage he made while the spark rig was activated.
An original serial numbered Marconi Wireless spark key. I wonder if Guglielmo ever used it?
Mike has an extensive KEY collection throughout the house. Here is a mere fraction of them.
Mike, with a glass of red wine, introduces me to his downstairs collection.
A nice combination of T-368, R-390 and Racal RA-17.
A rare Hallicrafters FPM-200 transceiver. There are less than 20 in existence in the world.
Along with vintage amateur radio pieces, Mike also has military radios both imported and domestic.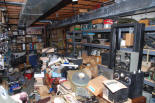 Shortly after returning home, Mike phoned and said he got rapped up in conversation and forgot to show me his outside garage, which is another 500 square feet of equipment. A return visit in the future is a must.