PACKRATS HAMFEST 2007
WRIGHTSTOWN, PA
click on any photo to ENLARGE
September 30, 2007. The Packrats held their 36th annual HAMARAMA at the Middletown Grange Fair Grounds in Wrightstown, PA. The weather was perfect and that may have accounted for the larger than normal buyer crowd.
I was there only a few minutes when I met Gordie W3GK, who brought me up to date on the old gang in Allentown, PA where I used to live. I then met fellow AM'er Chuck K3XU and had nice chat him as well.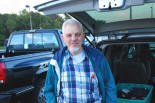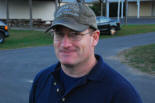 I spotted a Vintage Hallicrafters TV set and a Vintage National receiver. I didn't see Vortex Joe (N3IBX) at the fest so I called him on my cell phone to do a "virtual hamfest". While on the phone Don W2DL and Reid W2HU met me and asked about Joe so I put them on my phone. (Joe is fine and mending well from his knee surgery).
Then another round of boat anchor spotting.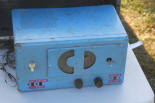 I came across a familiar large table of meters. In a previous hamfest webpage, I displayed the meter table photo and someone who was interested in buying meters, emailed me as to identifying the owner. I went over to the guy and asked him if he had a website or email address and he said: "No, I keep a low profile, tell your friend to come to a hamfest !". He then shoved a couple of red light bulbs into my view and asked me "wanna start a whore house?". Hmmmm, I subsequently asked a couple of my friends if they knew this guy and when I told them he wore a straw had they both said: "Oh that's Crazy Bob". It seemed like a matching moniker.
Just before leaving, I met Pete WA2CWA who related some very interesting aspects of maintaining a vintage archive of radio manuals and making copies of fragile originals.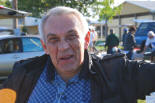 It was a good fest. The Packrats served up an excellent sausage egg and cheese breakfast sandwich too.