VISIT CARL, WA2UJX
Rhinebeck, NY
click on any photo to ENLARGE
January 11, 2009. One evening on 75 meters, Carl Verderber, WA2UJX, happened to mention that he had an RF Deck that was not needed, so I visited Carl and while there, I took some photos of his station.
When you hear that big AM signal from Rhinebeck, NY this is what makes it happen: The modified Apache, the unique, shiny SP-600, and one of the wire antennas in the WA2UJX antenna farm. The antenna is directly over Carl's private pond and his 120 watts sounds like legal limit out in receiver land.
Carl was proud to show off his new 4-1000A homebrew transmitter project. It's in the beginning stage of construction, but when it's completed everyone will surely hear this big rig on the bands.
The 4-1000A tube, the tube chimney and the power supply are ready to go.
When the subject of parts came up, Carl showed me a drawer with the big B&W 850 band switching coil assembly and variable capacitors. Carl also had a box full of AirDux coils and like a dummy I asked: "well Carl do you have any caps to tune those Air Dux coils ?" Of course, he almost laughed hard enough to bring tears to his eyes as he pulled out a large cabinet drawer chocked full of large variable variable caps.
In the tube department, Carl is well stocked with current tubes, but he also had a stash of 1920's rare tubes, "new in the box". He also has some circa 1920 radio handbooks.
In addition to his main station, Carl had several other rigs scheduled for "bench work" including a Globe King, a Viking Valiant and a vintage receiver.
Carl is a collector of vintage tube radios. Shown is a rare 180-700 meter, OA / BA receiver made by Westinghouse.
He also collects vintage transistor radios including the famous Regency TR1, which was the 'World's first pocket radio'. (of course Carl has 2 of them !)
Carl had one of those 13.56 mHz plasma amps. It had an 8 turn 4" diameter coil, so we put it on the bench to see how low in frequency it would go. We didn't get the kind of dip we wanted using long clip leads but it was clear from the size of the coil that it would go well below 13 mHz in a straight PI network.
Carl's XYL, Karen, who understands how important the radio hobby is to Carl.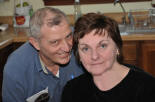 Paddy and I had a nice visit and Karen and Carl were gracious hosts.