POST TIMONIUM PARTY FOR AM'ers 2009
click on any photo to ENLARGE
March 28, 2009. Frank , KB3AHE and his wife Carol, KB3OMT hosted their annual Post Timonium party at Nottingham, MD. Their combined efforts made it a very successful party.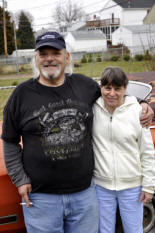 Upon arrival I opened my trunk containing six boxes of parts, equipment, magazines and "stuff", a result of cleaning out my garage. Two of the boxes disappeared right out of my trunk, another two disappeared immediately in the back yard and two more were emptied quickly. It was a successful "mini hamfest" and as N3IBX would say: "if it's free, it's for me".
The weather guesser predicted rain, but it was just overcast, allowing for outdoor gathering and conversation.
While it was still light out, one of the ladies corralled everyone to the front of the house for a group photo.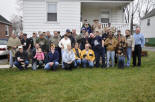 I cropped the group photo into sections to make it easier to see individuals.
Everyone took photos today.
From the amount and variety of food available, it was clear that Frank and Carol planned and worked for days before the event, to make it happen.
Once inside the house, it was more food, conversation and some really great AM "war" stories".
Another party feature is a visit to KB3AHE's shack. The question everyone had was: "how did Frank get that monster transformer inside the rack of his 4X1 homebrew transmitter.
A short tour of the basement yielded a rather well stocked array of vintage equipment.
No AM party would be complete with out several chinchillas.
Everyone had a great time, thanks Frank and Carol !