DAVID SARNOFF RADIO CLUB
FIELD DAY 2010
click on any photo to ENLARGE
June 26, 2010. Looking for an active radio club doing field day, I checked the internet and found the David Sarnoff Radio Club (DSRC) near Princeton, NJ.
After parking the car, my wife Paddy and I approached the first portable position and met Leon KB2SVD. Leon was operating the 20 meter CW position. Inquiring about the battery and the lack of generator noise, I was told that the DSRC was running strictly QRP this year. Leon was joined by Ray WA2PYX (on the left) and Dennis KC2IMI (on the right) who explained the layout of the various operating positions for our visit.
Our second visit was with Connie KC2YJT and Steve WB2HJX, a husband and wife team operating the 2 meter and 440 mHz positions. Connie and Steve used the antennas on their vehicle. Clearly the DSRC is truly portable and ready for emergencies.
My foot was larger than their tiny battery and more important, Connie and Steve installed a portable solar panel to charge their battery.
Not very far away, we met Stan N2FMI who was operating the PSK-31 station. John NU3E demonstrated the "armstrong" method of antenna rotation.
The forth station was an HF station operated by Pat K2PAT. (L to R: Leon KB2SVD, Dennis N4MVU and Pat K2PAT. Pat's station had several vertical antennas and a long wire. Pat demonstrated the bow and arrow method of putting up the wire antenna.
Showing his sense of humor, Pat posed with "K9DOG". Dennis and the YL's were looking on.
Demonstrating the way one does Field Day in a first class way, Barb N2ZKA and John WB2YGF invited Paddy and me into their well appointed and air conditioned RV. John and Barb were operating 80 meter CW. A big supporter of the ARRL, they had a logo posted on the door of their RV.
Running coax into a balun feeding open wire feeders, John and Barb provided an efficient way to feed their wire antenna. Looking on were (L-R): John NU3E and Charlie WA2 EHN.
We had a most interesting visit with Gerry N2GJ who explained "whisper" communications. Via slideshow charts, Gerry gave honor to K1JT who invented and developed WSJT (weak signal by 'K1JT'). Gerry explained how any radio amateur can download software and connect to the audio output of a receiver and receive WSJT signals. (I'm going to try this at home....W2DTC).
Gerry, a positive supporter of ARRL Field Day, was running 1/2 watt into a 40 meter dipole and making contacts! Gerry said that WSJT communications can be made thousands of miles away running 1/2 watt...... amazing !
As we approached an unmanned operating position, I asked Paddy to pose as the operator. We looked down field and found the owner Kevin KB3BUT helping get another location up and running ON 40 meter CW, as Dennis N4MVU looked on. Kevin was nice enough to return to his 80 meter CW station for a couple of photos.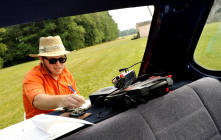 The David Sarnoff Radio Club picked a wide open location for Field Day and were impressive with their strictly QRP operation with everyone running 5 watts or less. They were clearly ready for portable communications, should a real emergency occur.