BIKINI BIKE WASH AND BIKE STUNTS
XTREME MACHINES 2010
click on any photo to ENLARGE
August 7, 2010. It's been my experience that at motorcycle events, everyone had fun and everyone enjoyed having their picture taken. Based on that, I travelled to Xtreme Machines on Rt 33 in Millstone, NJ.
The place was packed. Car parking was tight and all spaces at the back of the store were filled, and overflow was in adjacent fields. I saw the hundreds of bikes at the front of the store and smelled the food area which had a long line of hungry bikers.
I decided to check out the store and was met at the door by a pretty hostess. After taking her photo, she called her sister over for another shot. Very pretty girls indeed!!
The store was clean and well stocked with all kinds of bikes and off road vehicles.
The large crowd was outdoors, so I went back out to find the bikini bike wash. Before I got there I found a young lady with a pet snake. Not a dog or cat, but a snake.
I found the bike wash and took some photos.

A large crowd formed at the side of the building to watch some very talented guys perform amazing motorcycle stunts.
I mentioned that everyone enjoyed having their picture taken and so it was today.
The next event was oil wrestling. The MC asked for two volunteers from the crowd to oil down the girls; lots of hands went up. Then the wrestling match took place and the referee asked the crowd for a vote.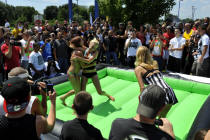 Where I was standing, most of the guys thought that the referee was the "winner".
I had to leave at 1:15 PM for another engagement and missed, what I think would have been a great event, put on by a group called We Play Crazy. Apparently they do dangerous stunts. Out of the corner of my eye I saw a guy that looked like he jumped from a truck roof. I saw his buddy climb to the roof and boy did he do a great jump !
Xtreme Machines was a great host, they provided free water and free food too. Lots of planning went into the day and everyone enjoyed themselves.