W2VJZ's SONS OF LIBERTY FARM
LIBERTY CORNER, NJ
click on any photo to ENLARGE
October 16, 2010. All 75 meter Amateur Radio AM'ers on the east coast USA knew of Irwin Richardt W2VJZ (silent key). Everyone also knew that Irb didn't want his estate to pass on to the "Insurance Mafia" or some government entity. Paddy and I attended a vintage car show in Liberty Corner New Jersey and decided to visit the W2VJZ homestead to see what, if anything, had changed.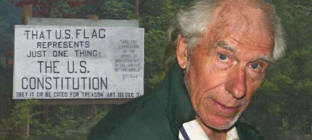 At the time of Irb's estate sale, his home and secondary building looked like this:
As we rounded the corner onto Allen Road we saw the sign and realized they turned Irb's homestead into a park. IRB'S DREAM CAME TRUE !
We pulled into the parking lot and looked for the house, but it was completely gone.
We walked down the driveway looking for remnants and found a disabled well water pump, a partial wall of the out building and a three position concrete base which may have been from Irb's father's tower.
The original monument for Irb's brother, now has Irb's information on the opposite side, but neither men are buried there. There is also a Kiosk showing a map of the park trails and the original home.
There is no doubt that Irb is resting in peace.