INFORMATION AGE (INFOAGE)
CAMP EVANS - WALL, NJ
click on any photo to ENLARGE
May 22, 2011. A friend, who knew about my interest in radio, gave me a brochure about InfoAge. After checking out the information I decided that my wife and I should definitely take a look. Upon arrival we were met by Steve Goulart, who walked us to a spot where he pointed out the various buildings on the site and gave us a brief history of Camp Evans. (Sorry Steve, I didn't take your photo upon arrival).
We entered the Radio Technology Museum and for fun I sat Paddy behind the Information Desk, but nearby was the real information desk: Dave Snellman.
The first place we visited was the old time radio area and the Broadcaster's Hall of Fame. The vintage radios were in excellent shape, they looked brand new.
I never heard of the circa 1920 Crawford Receiver. It must be rather rare.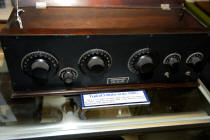 Steve Goulart, mentioned upon arrival that the Camp Evans area was the receiving site for Marconi's transatlatic communications. Dave Snellman showed us this original anchor which held one of the many guy wires holding up the 400 foot towers. Dave said the antenna was 400 feet long and in modern times, some of the anchors were in people's backyards.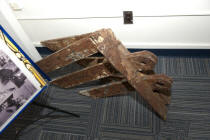 The next area was the audio and TV area. The Edison phonograph with the wax cylinders still worked and the 45 RPM jukebox was also in working condition.
Paddy Barber had to stand by here namesake (no relation).

Another interesting thing we didn't know about was this 8RPM record player. It was made for "reading books" for the blind. A complete Sports Illustrated magazine could be contained on only one inch of vinyl. The audio quality for voice was very good.

After the Russians deployed the Sputnik, the US followed with this Vanguard Satellite.
There were a number of military receivers and amateur radio receivers on hand. It brought back memories when saw my first decent receiver, the Hallicrafters SX-71.
In another room, Dave demonstrated a Jacobs Ladder and a 200,000 volt Tesla coil.
During a visit, we passed a room where a technician was working on a vintage receiver.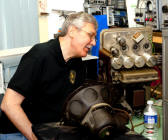 The were two large areas showing many computer systems and other specialized radio systems.
Dave demonstrated a TTY machine that was printing live AP news. A nearby computer was converting today's modern communications media to the old TTY format.
Bob Perricelli introduced us to military jamming equipment used in every conflict the US was involved in.
We left the Radio Technology building and headed to the Marconi Hotel. There was radar equipment, specialized radio equipment and Apollo Guidance computer equipment.
The Marconi hotel itself was well appointed and his staff was very well taken care of.
As we were leaving, we were introduced to Fred Carl the founder of InfoAge (standing) and Stephen Goulart, the chief engineer (seated..... Stephen was the guy who greeted us when we arrived for our visit).

It was a fantastic visit, which must be repeated soon.