RED BANK PHOTO CLUB "SAFARI"
SANDY HOOK, NJ
click on any photo to ENLARGE
February 26, 2012. The weather was great for a February and the photo club took a leisurely stroll around Sandy Hook starting at the lighthouse. Arriving at the appointed time of 2:30PM, I met Ben DeMarco who was there since 2 PM. Ben asked: "where is everybody ?". Hmmm. no club president? .... NO. No vice president ? .......NO. Knowing that President Tyler had a great sense of humor, Ben and I decided to rub it in all afternoon.
Ben and I came to take pictures, so we took a short walk down the hill from the lighthouse to the Mortar Battery.
About an hour after Ben arrived, the phone rang and lo and behold, John, our club president was just arriving. He said something about posting his arrival time on Facebook, but we ignored his comment. We had fun poking fun at him all afternoon. John was kind of enjoying it too, even though it was at his expense. Around the time of John's arrival there were eight of us in the group taking photos.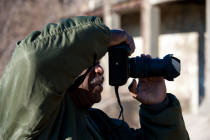 The next visit area was to Battery Potter, named after Brigadier General Joseph H. Potter, U.S. Army. Battery Potter contained the worlds first steam-powered hydraulically lifted disappearing gun batteries, which were armed with two 12-inch breech loading rifles. No rifle photos today, just interesting things outside the perimeter.
A short walk from the battery and we were by the giant mortar at the square. We found a pretty photographer and her pretty model. We engaged them in conversation and took a few photos of our own.
We strolled past Officers Row and headed back toward our cars taking more photos, of course.
As a group, we drove to the Visitor's Center and walked down toward the water looking for several protected species. There were no special animals visible today.
It was a great "safari" and next time President Tyler can pick on us, just to keep the humor going.